Justine Greening has said an extra £2.6 billion over two years will be given to schools, funded by "efficiencies and savings" in the Department for Education's budget.
The Education Secretary said £1.3 billion will be provided in 2018/19 and a further £1.3 billion in 2019/20 in a bid to ensure funding per pupil is "maintained in real terms".
Ms Greening also confirmed plans to introduce a national funding formula, aiming to ensure money is distributed more fairly across the country, from 2018/19.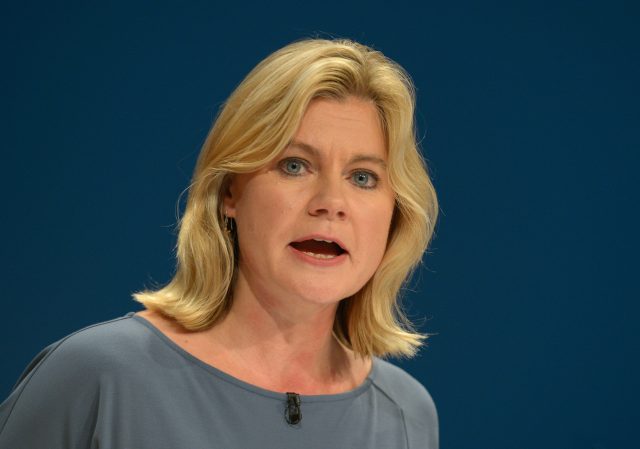 Education Secretary Justine Greening has pledged an extra £1.3 billion over the next two years to schools and high-needs programmes (Ben Birchall/PA)
On how the extra £2.6 billion will be funded, Ms Greening said £420 million would be found from the main schools capital budget – the majority of which would come from healthy pupils capital funding.
Ms Greening said that while she "remains committed" to the free schools programme and delivering the 140 new schools announced at the last Budget, working more efficiently to deliver it could save £280 million.
The Cabinet minister also said that as a result of the investment, core funding for schools and high needs would rise from almost £41 billion in 2017/18 to £42.4 billion in 2018/19 and £43.5 billion in 2019/20.
.@JustineGreening confirms in @HouseofCommons that#education is a priority for this government pic.twitter.com/0SNsVHanCY

— DfE (@educationgovuk) July 17, 2017
Shadow education secretary Angela Rayner said Ms Greening had announced "nothing more than a sticking plaster", adding: "Per pupil funding will still fall over the course of this Parliament unless further action is taken urgently.
"I will welcome the opportunity to protect budgets for our schools but this statement alone will do nothing of the kind."
Making the announcement, Ms Greening told MPs the Government had recognised people's concerns during the General Election about the "overall level of funding in schools, as well as its distribution".
Today's announcement is nothing more than a sticking plaster. Tories have already cut billions of pounds from school budgets in real terms

— Angela Rayner MP (@AngelaRayner) July 17, 2017
The announcement will do nothing to reverse cuts. The government are not committing any new money and what programmes are being cut?

— Angela Rayner MP (@AngelaRayner) July 17, 2017
The climbdown on the implementation of the National Funding Formula is simply the latest sign that this zombie govt is so weak and wobbly

— Angela Rayner MP (@AngelaRayner) July 17, 2017
She said: "I'm confirming our plans to get on with introducing a national funding formula in 2018/19, and I can announce that this will additionally now be supported by significant extra investment into the core schools budget over the next two years.
"The additional funding I'm setting out today, together with the introduction of a national funding formula, will provide schools with the investment they need to offer a world-class education to every single child.
"There will therefore be an additional £1.3 billion for schools and high needs across 2018/19 and 2019/20, in addition to the schools budget set at spending review 2015."
An admission that free schools aren't best way of spending funds? Local authorities must be given funds to deliver them #schoolfunding https://t.co/6NlnqS3tcY

— Caroline Lucas (@CarolineLucas) July 17, 2017
Ms Greening added: "It will mean that the total schools budget will increase by £2.6 billion between this year and 2019/20, and per pupil funding will now be maintained in real terms for the remaining two years of the spending review period to 2019/20."
Ms Greening said this investment would increase the basic amount of funding for every pupil, with up to 3% gain per year per pupil for underfunded schools and a 0.5% increase per pupil for every school.
She added it would provide at least £4,800 per pupil for every secondary school.
OOOH. Greening will cut £200m from "free schools" budget, by having 30 schools delivered by local councils instead. #schoolfunding

— Laura McInerney (@miss_mcinerney) July 17, 2017
The Education Secretary also outlined further details on how it would be funded, including that across her department she would reprioritise £250 million in 2018/19 and £350 million in 2019/20.
Ms Greening said she would redirect £200 million from the department's central programmes towards the core schools programme.
For the next two years the national funding formula will set indicative budgets for each school, and total schools funding for each local authority will then be allocated according to the fair funding formula.
Local authorities will continue to set a local formula to decide how much each school gets, before the full introduction of the national formula.
Schools will also be expected to sign up to so-called national deals on things like energy to save money, Ms Greening said.