Hurricane Irma unleashed devastation on the British Virgin Islands, Turks and Caicos and Anguilla as what was the most powerful storm in years to hit the region ravaged the Caribbean last week.
Damage to homes, businesses and buildings remains widespread after the category five weather system caused chaos and destroyed much of what was in its path.
More than 1,100 UK troops have already been deployed to the region to help with relief and recovery, as the clean-up gets under way across the British overseas territories and Caribbean.
Here are some of the questions and answers surrounding the role of the UK government and the aid being supplied, and where the affected territories are.
What kind of role does Britain have when it comes to its 14 overseas territories?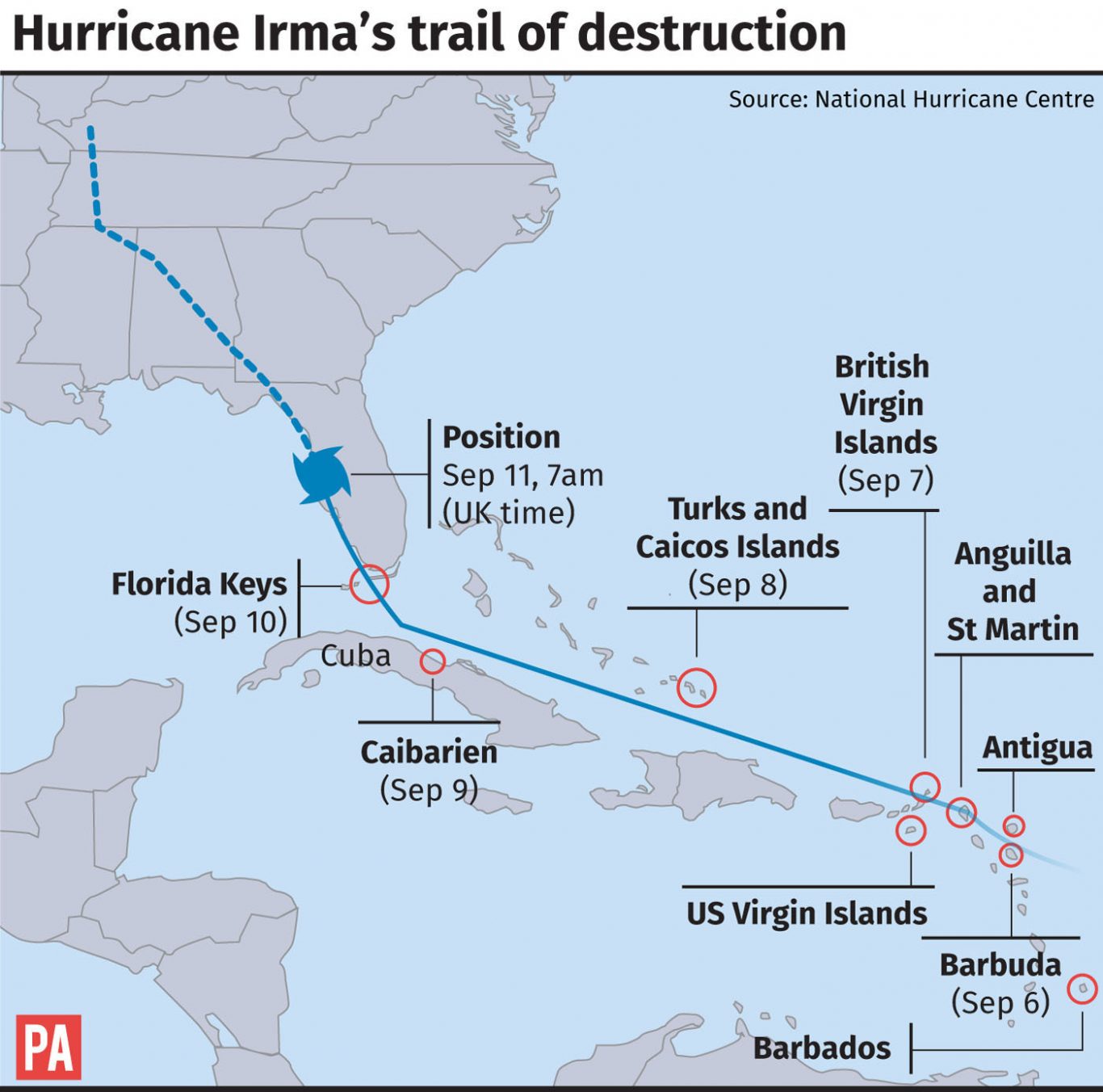 PA Graphics
The British Virgin Islands, Anguilla and Turks and Caicos, hit by Irma as it made its way across the Caribbean, are self-governing, but the UK government has a responsibility to ensure their security and good governance.
What has the UK government done financially to help so far?
An update on the UK Government's ongoing response to help those affected by Hurricane Irma in the Overseas Territories. pic.twitter.com/76WWAmSGZe

— Foreign Office ???????? (@foreignoffice) September 15, 2017
The UK has pledged a total of £57 million towards disaster relief and the public has helped to raise a further £1.3 million, which will be matched pound for pound by the Government up to £3 million.
On Thursday Prime Minister Theresa May said she was "frustrated" with rules set by the Organisation for Economic Co-operation and Development (OECD) which mean UK foreign aid cash cannot be spent on British overseas territories hit by Irma.
Foreign Secretary Boris Johnson, who visited the Caribbean to see the damage first hand, said it was "natural" that Britain's aid money should be used to help those whose lives have been devastated by Irma.
But the rules prevent British overseas territories like Anguilla, Turks and Caicos and the British Virgin Islands from receiving money from the aid budget.
In terms of aid from the UK, what has been delivered so far?
Our troops continue to bring relief and make a difference on the Caribbean islands left devastated by #HurricaneIrma https://t.co/G3fXfQjXfp pic.twitter.com/Dzb1aQL6SV

— British Army (@BritishArmy) September 15, 2017
More than 60 tonnes has already been delivered with a further 60 tonnes making its way to those in need on board HMS Ocean, which should arrive in the region at the weekend.
The aid on HMS Ocean includes more than 5,000 hygiene kits containing essential items such as soap and a torch, 500,000 water purification tablets and 10,000 buckets.
Much needed items such as food, water, medical supplies, corrugated iron, timber and tools have also already been delivered to those in need. This includes 2,800 shelter kits and 5000 solar lamps.
Where are the UK military, police and prison officers which have deployed to the region?
Army Engineers, RAF Medics & Royal Marines working together to rebuild badly damaged Princess Alexandra Hospital in Anguilla #HurricaneIrma pic.twitter.com/AwQ3twsOGK

— British Army (@BritishArmy) September 13, 2017
The overall UK response currently involves more than 1,100 military personnel and 50 police officers.
On the British Virgin Islands there are currently more than 200 Marines, Royal Engineers, logisticians and medics helping in the relief effort.
There are also 50 UK police officers and 24 UK prison officers.
On Anguilla there are more than 70 military personnel and four police officers, with another 70 troops in Turks and Caicos.
Royal Auxiliary Fleet Mounts Bay has also been pre-positioned in the region in preparation for hurricane season.
There are also more than 30 Department for International Development staff and humanitarian advisers working across the overseas territories.
What are the British Virgin Islands (BVI)?
The BVI make up the larger part of an archipelago of more than 60 islands and cays forming the northern extremity of the Leeward Islands in the eastern Caribbean.
The BVI comprise 56 islands, rocks and cays, but only 16 are inhabited.
Road Town, on the south coast of Tortola which is the largest island, is the capital of the British Virgin Islands, which are located to the right of Puerto Rico.
Where is Anguilla?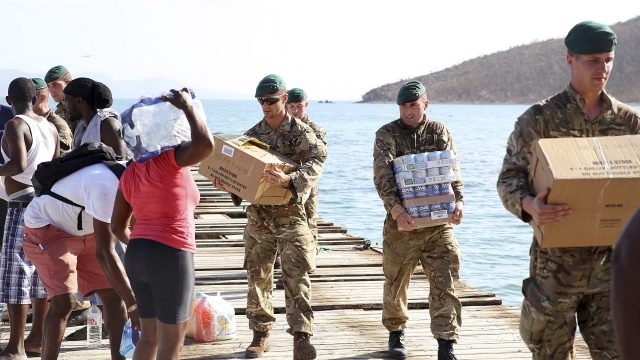 Royal Marines deliver aid and provide support to the islanders after Irma. (MoD/PA/AP)
The island of Anguilla, which also comprises the island of Sombrero and a number of smaller islands and cays, is small and secluded.
Anguilla is located to the east of the British Virgin Islands.
What and where are the Turks and Caicos?
"Community spirit has kicked in, and already reconstruction has started"@tariqahmadbt visits Turks & Caicos

???? https://t.co/kBIQwys8Dx pic.twitter.com/QqlD1puZN5

— Foreign Office ???????? (@foreignoffice) September 15, 2017
The Turks and Caicos are an archipelago of more than 40 islands forming the southeastern end of the Bahamas chain.
There are two principal groups, each surrounded by a continuous coral reef.
Caicos is the larger group and includes Providenciales, Middle (or Grand) Caicos, and the islands of North, South, East and West Caicos, plus numerous small cays, some of which are inhabited.
The Turks group, separated by a 22-mile channel of water, consists of Grand Turk, Salt Cay and a number of small uninhabited cays.
The capital Cockburn Town is on Grand Turk.